How to style a coffee table
There are a few questions I get from my clients and followers when it comes to styling a coffee table. How do you make a coffee table look good? What should be placed on a coffee table? Today I am here to answer those questions and share some coffee table decorating ideas with you. A coffee table is a not-to-be-overlooked styling opportunity that can really help make your home feel pulled together and give it personality.
Over the years of decorating coffee tables for both myself and my clients, I have developed what I call my "coffee table styling recipe". Styling is similar to cooking in many ways - you shop for ingredients (home décor) and follow some basic guidelines to create an outcome. My coffee table styling recipe translates across all different styles from modern to rustic coffee tables.
There are some tried and true "ingredients" that I use when decorating a coffee table. The first and most important piece? The coffee table tray. Trays are one of the most versatile styling pieces and form the foundation of my coffee table styling recipe. Let me take a moment to explain why I think a tray is an integral component of styling a coffee table.
A coffee table tray provides a focal point on the table and sets a foundation for the other elements you are going to introduce.
It helps to contain the decorative and functional items on the table (I'm looking at you, remotes!). This reduces visual clutter and keeps the table looking tidy.
A tray makes it really easy to clear the table if you need it to serve food, play a board game or tackle that puzzle you've had your eye on.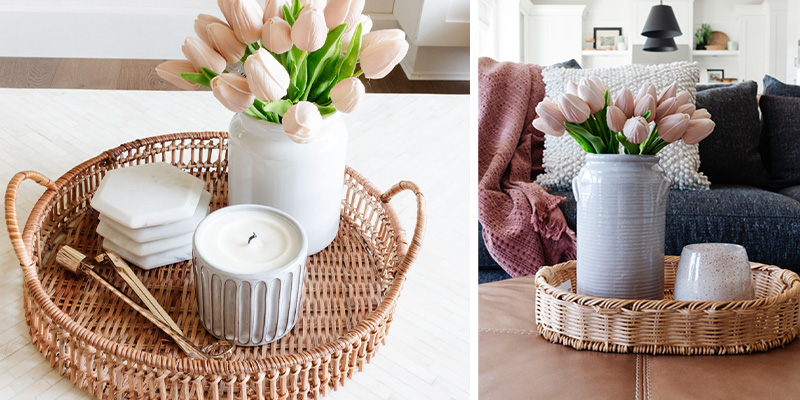 When you are shopping for a tray for your coffee table, there are a few things to keep in mind. The first is size, you want to select a tray that is to scale with your coffee table. As a rule of thumb, I like to use a tray that takes up roughly one third of the surface area of the coffee table. Another consideration is the shape of the tray. Rectangular, square, round and oval are the most common shapes. A little trick I use is to mix up shapes, so if your coffee table is a rectangle, try a round or oval tray. The last thing to consider is the colour and material of the tray. I think trays really "pop" when they contrast with the tabletop. For example, a black tray looks great on a wood coffee table.
This leads to the next part of the "recipe", how to style your decorative tray on your coffee table! There are three tried and true items I use on repeat to style a coffee table tray. The first thing I add is something organic - either a plant in a stylish planter or a beautiful vase with some floral stems. These can either be real or faux, the important thing is to add some life to your vignette. I like to take up about one third of the tray with this important organic element. The next thing I reach for is a scented candle in a pretty vessel. Lighting a candle creates a cozy ambiance and makes your room smell amazing. The last of my go-to objects for styling is a set of decorative coasters. Not only are these available in many pretty finishes, but they are also great to have on hand to protect your table.
So, there you have it. A tray with a flower arrangement, a candle and a set of coasters is a fool-proof styling recipe that looks good on any coffee table!