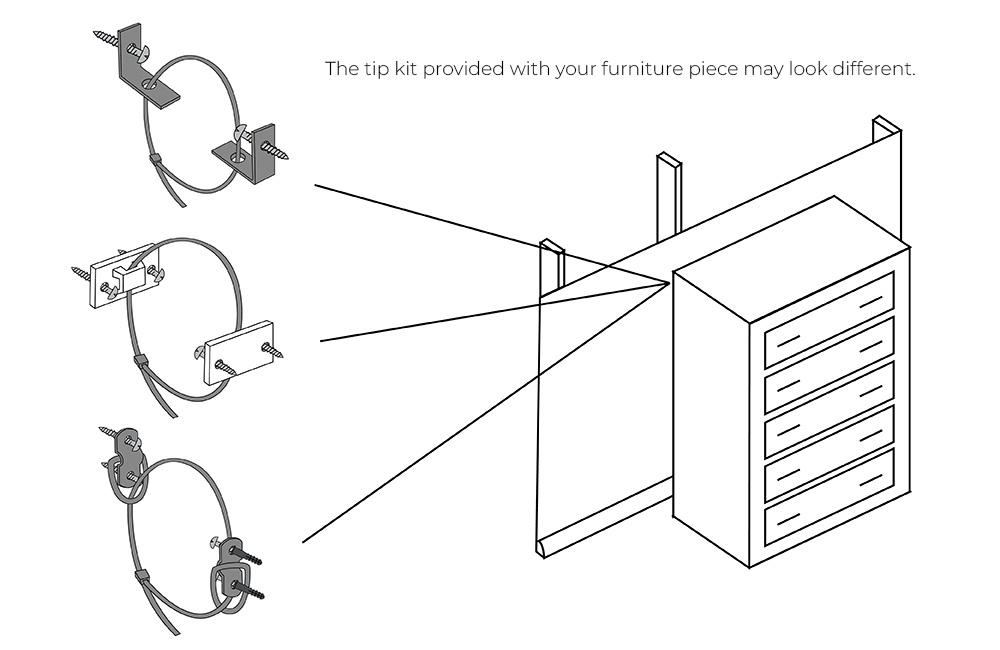 Anchoring based on wall type
To ensure your furniture is secure, attach it to the wall using hardware that matches your wall material. If your wall material is not listed, please consult with a local hardware retailer to find the safest option.
The safest way to anchor your furniture is by screwing it directly into a stud in the wall.
For stone, brick or concrete walls, be sure to use a plug with a screw or a toggle-style screw to safely secure your furniture.
Drywall without a stud is the least preferred method of anchoring due to safety limitations. Be sure to use a plug with your screw.
Installing your kit
The Anti-Tip Kit includes hardware designed to secure your furniture to a stud in the wall. To be sure you are using the right hardware for your wall type, check with your local hardware store.
Attach a bracket securely to the top back of the furniture piece using the 5/8" screw provided, through the smaller hole.
Attach the other bracket to the wall 2 inches below the mounting bracket secured to the back of your furniture piece. Attach bracket to the wall using the 2" screw provided, through the smaller hole.
Place the furniture piece into position so that both mounting brackets are vertically in line and lace the end of the restraint strap through the larger hole in each mounting bracket. Bring both ends together and slide the flat end through the locking end and draw it through until all slack is removed.
Order your complimentary Anti-Tip Kit
If you didn't receive an Anti-Tip Kit with your order or require a replacement, please fill out the form below.