Indoor-outdoor decorating
Summer is definitely the season to play with new colours and fun accents for your home, especially outdoor spaces.
Go with the flow
5 tips for coordinating your indoor-outdoor decorating
How do you keep your interior and exterior décor looking like it all belongs together? Follow these five tips to coordinate your indoor and outdoor decorating and create breezy flow for summertime living in all your spaces.
1. Colour on Repeat
One of the easiest ways to coordinate accessories is to carry a colour between indoor and outdoor rooms. If you have a favourite shade or your interiors are already well-coordinated, there's probably an obvious choice for the colour you can carry over into your outdoor decorating. From neutrals like grey to bright accents in violet or teal, keeping a consistent COLOUR PALETTE makes your spaces feel cohesive even when they're separated by walls.
2. Bring Greenery In
Your first instinct is probably to make your outdoor spaces match the inside. But the opposite strategy works too! Bring the outdoors in by adding a TOUCH OF GREENERY to your living room and bedroom. Whether you're tending to living plants, buying fresh-cut flowers, or arranging FAUX FOLIAGE in everlasting bouquets, décor inspired by nature brings summer vibes inside. Your balcony or patio should of course have its own greenery, either natural or low-maintenance faux (we won't tell).
3. Organic and Boho Style
Bohemian style works well in both indoor and outdoor spaces, and fit perfectly with today's ultra-popular ORGANIC TREND. Bring the look to your living and bedroom with textured ACCENT PILLOWS, mixed patterns and accents with organic shapes. Replicating the boho feel outside is easy! Add woven furniture, natural accents, and bold prints.
4. Indoor Touches for Outdoor Spaces
Outdoor spaces filled with only furniture can feel utilitarian. By treating your deck or patio like an outdoor living room, you'll create connection between cozy insides and open-air living. This means layering accents like OUTDOOR RUGS, pillows and throws. Textiles are the perfect way to give every space a lived-in feel and make it easy to pick up accent colours from inside your home. To make your outdoor space feel even more special, don't forget to add purely decorative pieces like sculptures and wall art.
5. Repeat Key Accents
Choose a few pieces to feature in both your indoor and outdoor rooms. Whether it's the same lantern, vase or floor cushion, these common threads create a seamless transition between rooms. Consider suitability before you put accents outside! We recommend synthetic, machine-washable textiles, and durable décor made from metal that won't break easily.
Shop the look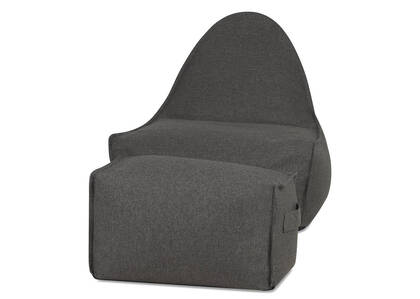 This item has been added to your Favourites.
This item has been removed from your Favourites.
View Favourites
Quick Shop