Each month, we go through Instagram looking through all of your beautiful photos with the #MyUrbanBarn tag, looking for someone to feature on our blog (and to send a $150 UB gift card). This month's winner is Marika aka MarikaLin on Instagram.
Could you tell us a little about yourself and your space?
My name is Marika, my husband and I live in Langley, BC. We run a renovation and design company called Construct x Design. Our house changes often but we love grey scale and try to keep it as minimalist as possible.
Featured: Wells Leather Armchair – Redu Slate, Urban Barn Throw, Bambarra Toss 20×0 – White/Turquoise
How would you describe your decorating style?
I definitely love a more Scandinavian style, however I like to keep it practical and as dog friendly as possible.
Tell us about your favorite Urban Barn piece and why you love it.
Oh yikes, this is a tough question because our whole house is Urban Barn. I love the Berg Sofa it's super comfortable and has a very deep seat so I can cozy way into the couch. I also love the Wells chairs because I'm convinced they can stand up to anything (two dogs really test the limits).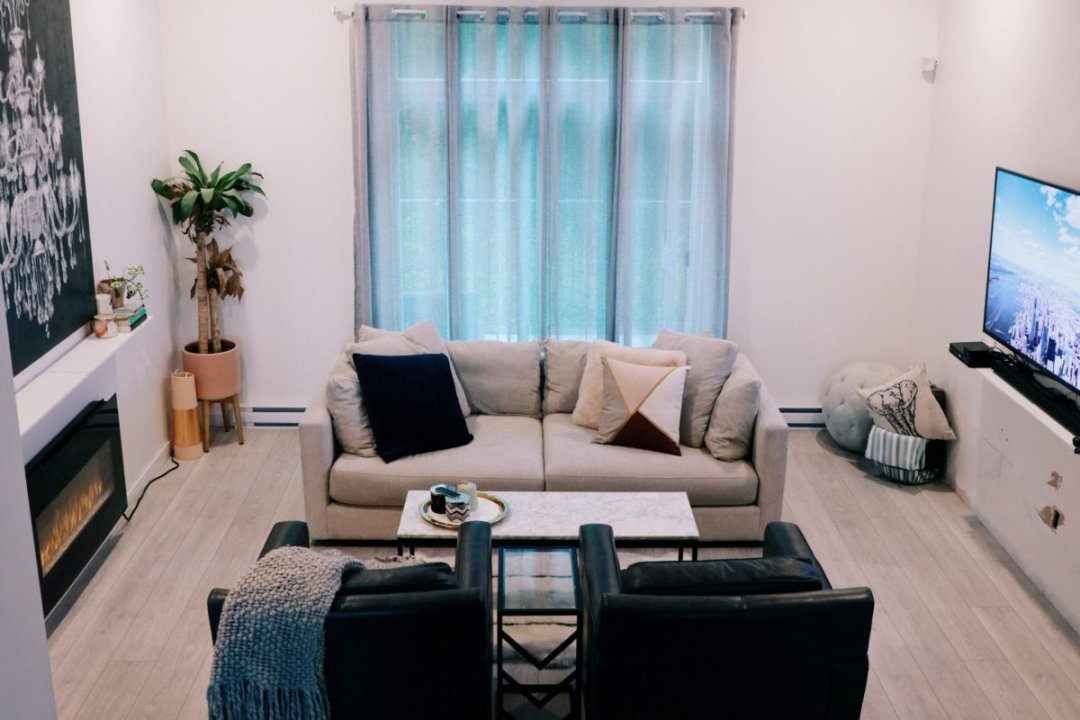 Featured: Berg Sofa, Wells Leather Armchair – Redu Slate, Pouf – see new collection, throws – see new collection.
Which pieces were featured in your winning image?
I have the Berg sofa, two wells chairs, the chandelier painting from 2015, a couple pillows from the spring, and two blankets. (See, I wasn't kidding).
Where did you do most of your shopping?
Urban Barn Langley is definitely my main go to because I love the staff & obviously Urban Barn product.
Featured: Urban Barn Wall Art – see new pieces here.
#MyUrbanBarn Contest: Post a picture of your favourite Urban Barn products in your home to INSTAGRAM using the hashtag #MyUrbanBarn for your chance to win a $150 Urban Barn gift card! A new winner is chosen each month!
Get inspired with our previous winning entries here: 
#MYURBANBARN