Each month, we go through Instagram looking through all of your beautiful photos with the #MyUrbanBarn tag, looking for someone to feature on our blog (and to send a $150 UB gift card).
This month's winner is NormanLovesErnest on Instagram (perfect for dog lovers!)
Could you tell us a little about yourself and your space?
My name is Julie and I live in Edmonton, Alberta with my husband, Jon, and our 2 dogs, Norman and Ernest.
I would describe our home as warm and inviting—the two most important aspects when we began furnishing the space 3 years ago.  We love supporting Canadian companies and and Urban Barn has easily become one of our first and favourite places we head to when shopping for the home​​  Jon and I love to host our friends and family for dinners and game nights, and our guests always gravitate toward our incredibly comfortable couch and chairs to sink into with a nice relaxing drink.
How would you describe your decorating style?
I would describe our decorating style as hipster meets mid-century meets contemporary; a salad spinner of everything!  When I saw the beautiful wood base and legs on the Miller couch in-store, coupled with the trendy yet simple tufting, I knew it was meant to be.  We were able to customize it and ended up ordering 2 chairs in this collection in a beautiful and rich deep blue, dog-friendly, fabric.   They sit in our living room and bookend our rustic trunk-style coffee table perfectly.  Norman and Ernest both love a good snuggle in them, too.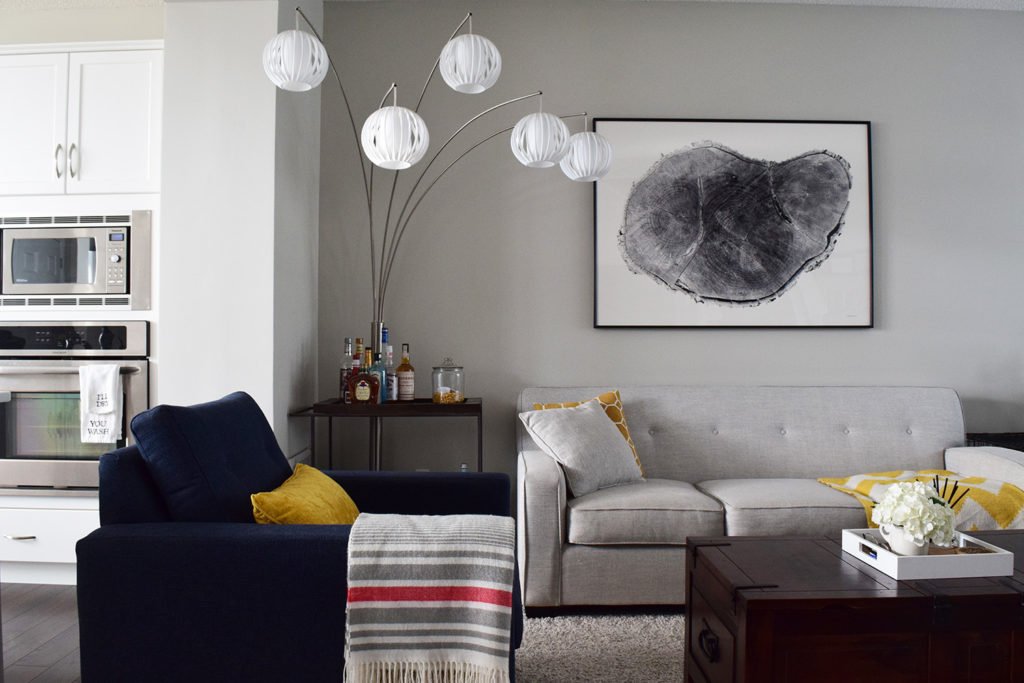 Tell us about your favourite Urban Barn piece and why you love it?
My favourite piece in our home is the 5 Lantern Floor Lamp.  My husband purchased it for my birthday 4 years ago and it is the piece that receives the most compliments.  It's bright, airy, and whimsical; all the things I hope to convey in our home.
Which pieces were featured in your winning image?
The Harper couch, 5 Lantern Floor Lamp, and the Arya Faux Fur Bedspread.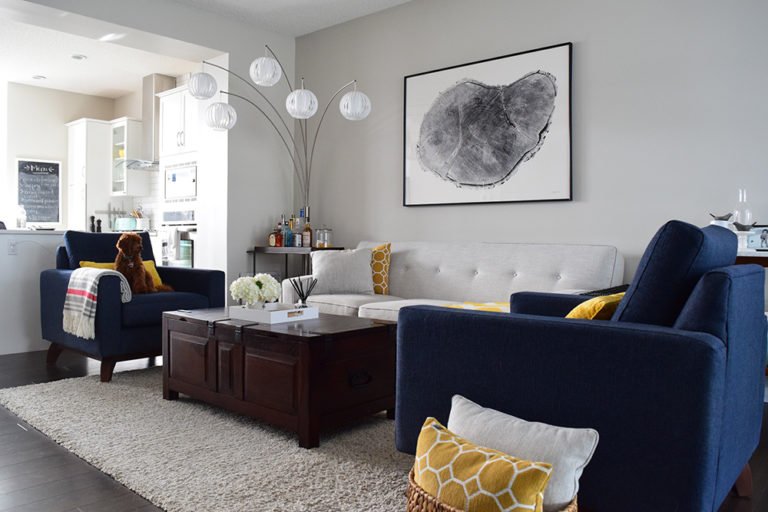 Where did you do most of your shopping?
We did all of our shopping at the Urban Barn located in the South Edmonton Common [directions].
Featured products: Harper Custom Sofa Chaise, Accent Pillows, assorted, Miller Custom Armchairs (see our full custom armchair selection).
#MyUrbanBarn Contest: Post a picture of your favourite Urban Barn products in your home to INSTAGRAM using the hashtag #MyUrbanBarn for your chance to win a $150 Urban Barn gift card! A new winner is chosen each month!
Get inspired with our previous winning entries here: 
#MYURBANBARN