This season, we're embracing Hygge, the Danish art of enjoying quiet moments and simple pleasures, showing gratitude, and leaving the drama outside. Stay tuned as we share how to feel right at home, even when you aren't.
Hygge (pronounced 'hoo-gah') is a Danish word and means different things to different people. Generally speaking, it's the art of creating coziness for the soul and the absence of annoyance.
It's a reminder to turn off our phones and to take pleasure in the moment.
Hygge tells us to turn down the lights, be here now, show gratitude, leave the drama outside and to enjoy small pleasures.
It's all about harmony. There's no quarrels, no bragging, and no distractions from enjoying your quiet time with people you care about.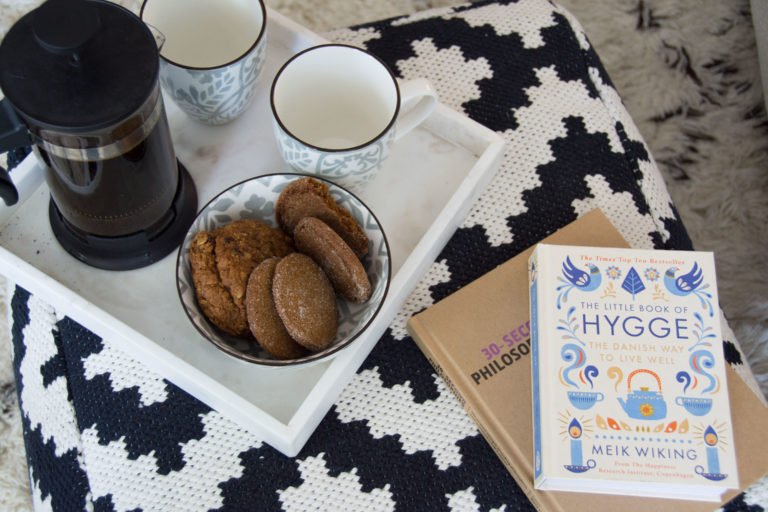 Featured: Fatima Cotton Pouf – Midnight/White, Kasabah Dinnerware Collection – Grey.
Hygge essentials include:
A cozy throw
Comfy socks
A big mug of something delicious
Stretchy pants
People you care about
There are a few tricks to creating a feeling of hygge in your home. Firstly, lighting or 'hyggeligt'. The colour of the light is everything, and fluorescent lights just won't do. Turn off the main lights in your home and make pools of light around the house. Cluster candles in a safe spot, use lamps with warm bulbs and be liberal with those warm-white lights you usually save for the Christmas tree.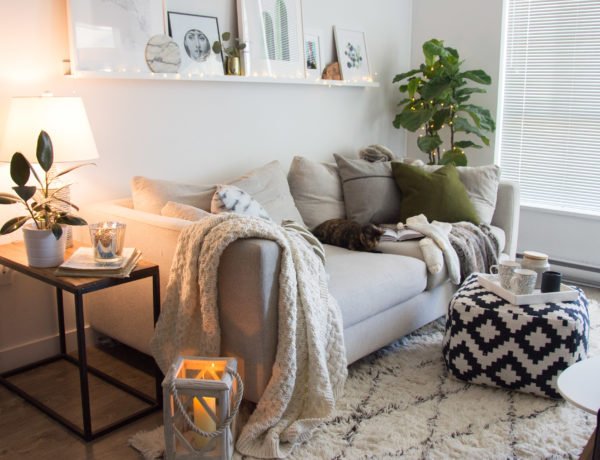 Featured products: Berg Custom Sofa, Fatima Cotton Pouf – Midnight/White, Briar Lantern – Milk, Delta Toss 20×20 – Olive, Kasabah Dinnerware Collection – Grey, Crosby Narrow Side Table – Sheesham, Mark Candle – Vanilla Silver, Julien Table Lamp.
The colours. Our 'Great Indoors' colour story has all the burnt orange, warm reds, and natural greens that invite the warmth into your home from the changing leaves outside. As well as colour, is texture. Get inspired with chunky-knit throws, soft hug-able toss pillows and curl up on a big comfy chair like the Nest.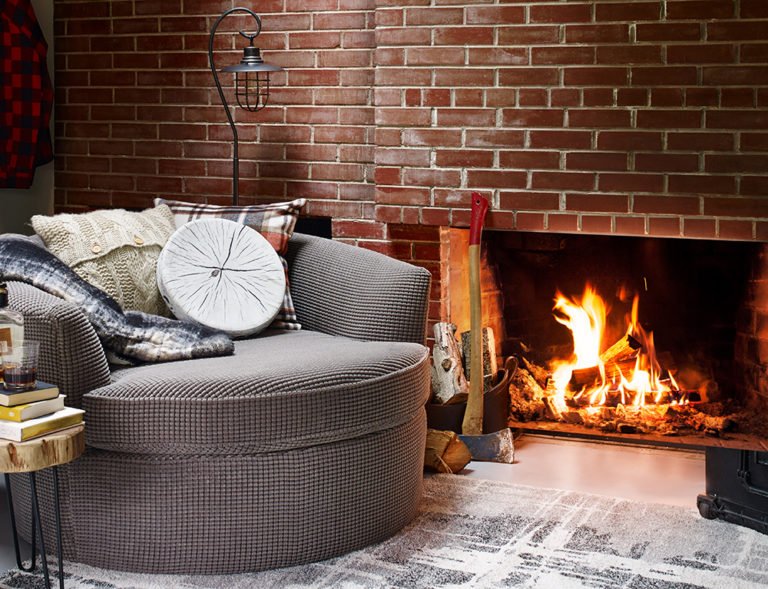 Featured products: Nest Chair – Bumps Charcoal, Bryson Rug – Grey, Lanterna Bronze – Floor Lamp.
Food, glorious food. Hygge is all about eating seasonally while enjoying the treats now and again. Instead of having portioned plates of food, make a sharing platter of roasted vegetables, sliced meats, and warm bread and butter for ripping apart and dunking into soup or scooping up the last of the gravy. Don't forget the dessert. There's always room for something sweet with a quiet mug of coffee or tea.
You don't have to save the mealtime hygge for dinner,  some of our favourite recipes that are so simple yet delicious.
Porridge with toasted coconut or peanut butter and apple
Pumpkin Cinnamon rolls and coffee [recipe]
Meatballs with gravy on rice or pasta, or just fresh bread [recipe]
Cheese on rustic bread
Mulled wine with star anise and cinnamon sticks. [recipe]
The warm smell of bread. The first deep breath in when you walk into a new room is everything. Hygge is all about warm candles, wood in the fireplace, and hints of fresh baking. Scented candles can help with this, but nothing compares to something yummy in the oven.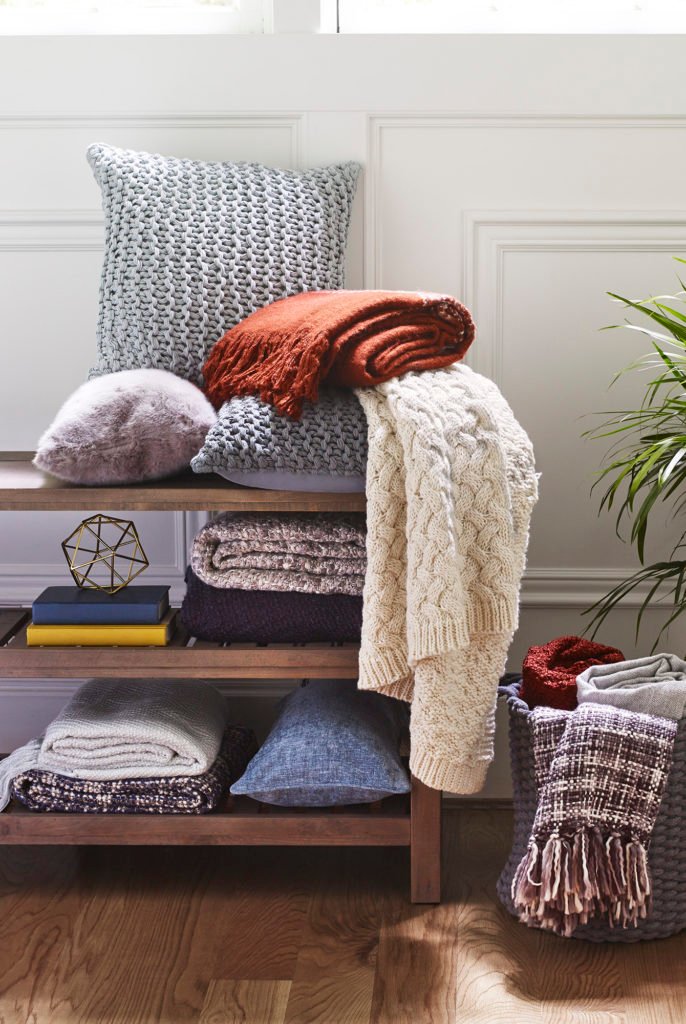 Featured products: Ironside Console Table – Rustic Grey, Clooney Toss 12×22 Petrol, Betina Throw Brandy, Betina Throw Midnight, Betina Throw Acai/Bilberry, Corde Basket – Grey, Amare Hex Decor – Brass.