Each month, we go through Instagram looking through all of your beautiful photos with the #MyUrbanBarn tag, looking for someone to feature on our blog (and to send a $150 UB gift card).
This month's winner is Angela Reno on Instagram.
Could you tell us a little about yourself and your space?
My name is Angela Rego, I'm a hairstylist living in Bradford Ontario, with my husband Jason, my son Jacob and a baby boy due end of August. We recently moved to Bradford from Toronto to be in a more family friendly area. I'd like to say our space is timeless, stylish and practical for everyday living with kids.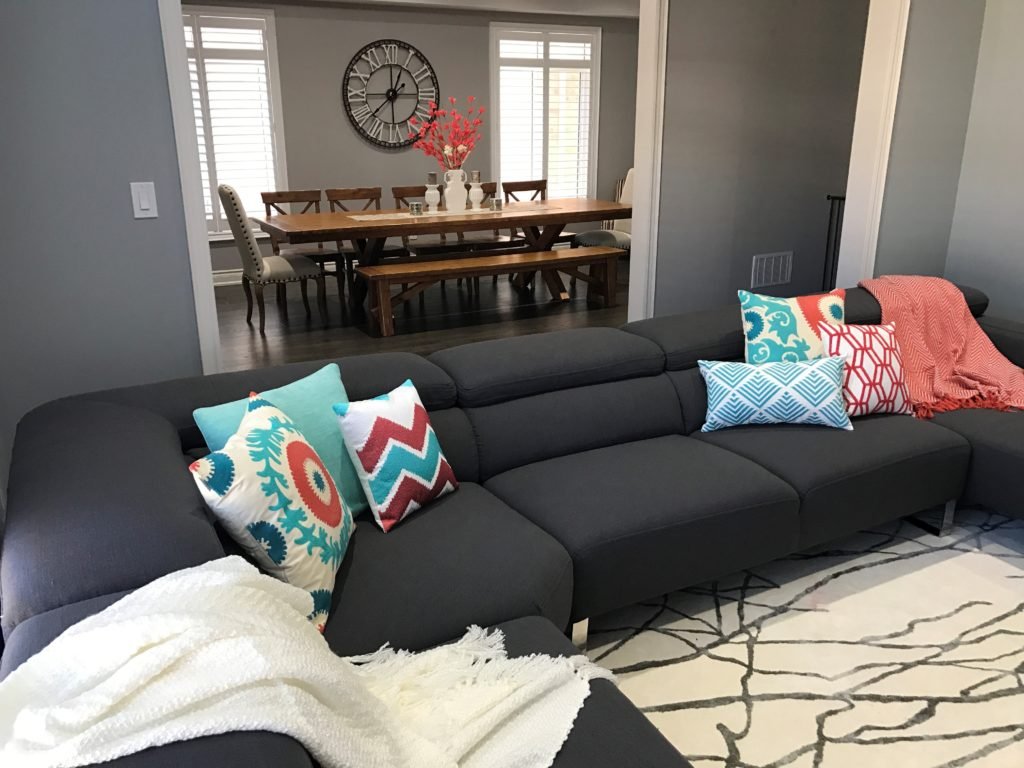 Products featured: Jax Toss 16×16 Coral, Kalp Toss 20×20 Coral/Turquoise, Vogel Toss 20×20 Coral/Turquoise, Aerin Toss 16x 16 Coral. In the background: Marcela Wall Clock, Calie Mum Spray Stem Coral,
How would you describe your decorating style?
Our decorating style is a bit of everything from modern to rustic to traditional it's all about mixing and matching the right pieces together.
Tell us about your favorite Urban Barn piece and why you love it.
I love all my Urban Barn pieces but my favourite would be my front entrance table it's just simply the nicest welcoming table.
Products featured: Nurez Wall Mirror – Round, Wall plaque, Barnwood Console Table (discontinued)
Which pieces were featured in your winning image?
My feature pieces were the beautiful pillows and throws with some accent pieces in the background one being the clock which I absolutely love.
Where did you do most of your shopping?
I love to shop at Urban Barn in Newmarket or in Vaughan. I haven't ever been disappointed with there service ! The staff is so kind and helpful making the shopping experience that much better !
#MyUrbanBarn Contest: Post a picture of your favourite Urban Barn products in your home to INSTAGRAM using the hashtag #MyUrbanBarn for your chance to win a $150 Urban Barn gift card! A new winner is chosen each month!
Get inspired with our previous winning entries here: 
#MYURBANBARN